And we finally arrived in Sandusky, Ohio! No more vomiting. No more drama.
(you can catch up
HERE
)
For the final hour in the car, all Lola could talk about was getting into the hot tub at the hotel. So as soon as we arrived, the van was unpacked and we jumped into the hot tub and did some swimming. Then it was time to eat and get some rest!
Jumping for Joy in the Hawwt tub!
A little post ride "recovery swim"
(and yes, those are black dots on her eyes, she played with make up in the van)
Last year, I worked the race at Cedar Point and the staff meal one night was as a very cool pub/restaurant called The Thirsty Pony. We are talking obscene burgers, huge salads and wings that are very yummy! I could not wait to hit this place up again with the family so we drove the one mile from our hotel to this joint and got a giant sampler of wings-
Casey opted for a GIANT burger. This picture does not do this thing justice. This burger was MASSIVE. A 1 1/4 lb patty with horseradish, bacon, mushrooms...and delish (yes, of course I took a bite) and I got a GIANT salad (and devoured a gazillion wings).
Friday morning, I slept in with Lola and Casey went out for a run. When he came back, he said he wanted to show us something pretty cool...so we were off on our first adventure in Sandusky!
A couple miles down the road, we round this beautiful little park by the marina and overlooking Cedar Point amusement park in the distance. It was so peaceful and beautiful, a great way to start our first full day in Ohio. Little did I know, on Sunday I would run in this same spot...
watching the sun rise on our family walk
a beautiful black swan-there were TWO!
The Smalls
Daddy and his little girl. Cedar Point is in the background
Lola LOVES chasing down sea gulls


Then it was time to head to the park, see all of my Rev3 peeps and get in the water for a little swim. The weather was absolutely perfection. A sunny sky, a bit of a breeze and the water was smooth!
I had been keeping a close eye on the weather report for Sunday and things were expected to change. Winds and rain and cool temps.
Must get in my beet juice! Loved the pink shadow
Lake Erie on Friday morning
itty bitty lake waves-this would change by Sunday
fun times with my best girl
I am very easily sucked into the hubbub of social activity and being at the race site with my friends and team mates was great. I got to see "Tall Chris" who has spent most of this year in Costa Rica so it was awesome to see him!
I got out for a quick run (2 miles) and a bit of biking (10 miles) and my legs were feeling GOOD. After hanging with friends and getting out to move, I knew I needed to get off my feet and rest! So it was back to the hotel for a break, lunch and a nap!
So lunch was some poolside salad and playing with Lola. We took a bit of a rest and then back to the park to HIT THE ROLLER COASTERS!
I was so excited to hit up these roller coasters-some of the biggest and fastest in the WORLD-since I missed 'em all last year (working these races is serious business, no time for play). There were tons of kids rides too and it was awesome to see Lola have so much fun.
My first big coaster was "GateKeeper"
Literally on the ascent UP the coaster stopped and I could hear some sort of announcement over the PA system. I could not make out what they said but we were not moving. We were suspended here...for an eternity.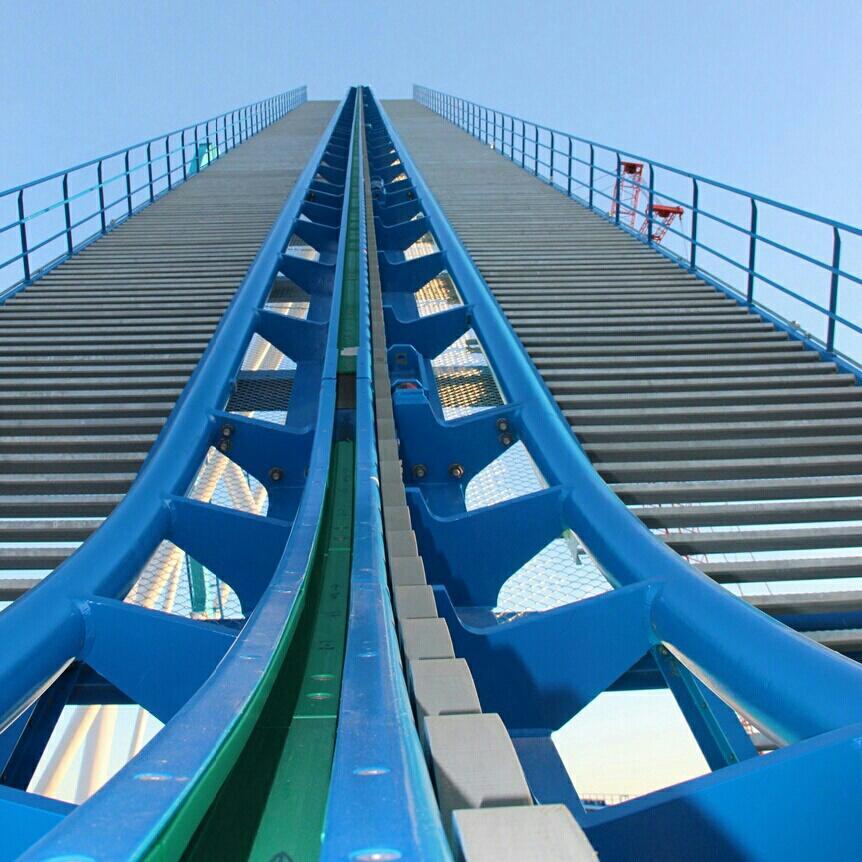 Finally, a ride attendant walked up the stairs along side the ride and said that the ride had been stopped for mechanical issues and we should be moving soon. Now, all kinds of panic and thoughts are screaming through my head. I eyeballed the stairs and was glad I was HERE when the ride stopped so I could escape if needed. My palms started to sweat and I got really nervous...then we started moving again. Being suspended almost straight up into the air was fine...it was the thought of WHAT IF that scared me!
Once we started moving, it was a blast! It was over before I knew it but my face hurt from smiling and I convinced Casey to give it a go! And he did!! We hit up some more rides and a couple more coasters and it was time for food and bed.
Saturday morning was swim practice and swim time with Lola
Another beautiful morning on Lake Erie
the cutest Lake Monster I've ever seen!
with team mate, Heather
with Ron or as we call him, The Bearded Dolphin
the swim course
with MattyO
with team mate, Rockstar Ryan


I got in a good half mile swim and made sure to sight out the course well, a two loop swim around triangular buoys and after the second loop, head in at a diagonal to the arch of swim exit. With talk of the weather on race day--expected high winds--there was already whispers of the swim being moved into the cove on the other side of the Cedar Point peninsula.
I kept my spirits positive and focused on what I could control but prayed that the weather would cooperate. It was time to head back to the hotel, get in my big lunch and rest.
Later in the day, I returned to the park to check in my bike with Lola to gave Casey some much needed "off" time to just chill out. I was pretty sure Sunday would be a long day for the both of them.
Lola and I loaded up
:PinkiePie:
Then it was time for the athlete meeting. Considering the weather for tomorrow, I figured it was important to attend and find out the swim plan. The RD, Eric Opdyke, addressed all the athletes concerns and assured us that Rev3 had a plan in place and we would have a definite answer in the morning. My gut already knew the answer and I was prepared for whatever the day would bring.
The weather had already changed-the winds were picking up, clouds were coming in fast and we had some rain showers. PinkiePie was covered well and tucked in for the night under the watchful eye of the transition team.
Lola catching rain drops during the meeting


On our way back to the van, we stopped to talk to the dinosaur and chase a few sea gulls.
Time to get back to the hotel and chill. I was still feeling very calm. The race day nerves had not hit me yet. It really freaked me out that I was so calm about the whole thing. Especially my first shot at 140.6, I thought for sure I SHOULD be feeling stressed.
I wasn't.
I was calm.
I was ready.
On the way back to the hotel, I saw one of my fav Rev3 staffers, Len who shouted GOOD LUCK from his van. Thanks Len!!
Back at the hotel it was a hot shower and bed.
I found this SELFIE Lola took and had to share. It cracks me up!
Tomorrow was the big day. The culmination of months of training. Literally, years of preparation and I was excited.
NEXT UP: Race Day!